Preservation Through Google Street View: Marshall Islanders Put Their Home On The Map
Since its fruition, Google Street View has been leveraged by many worldwide for work, travel, entertainment, and especially activism. At its core, this technology's point is to build a global community using the power of visual mapping.
A few weeks ago, our team asked the TourBuilder community to share their stories - and we were overwhelmed with gratitude seeing how many of you leverage this technology to help others and make a difference in the world.
Because of this, it's our pleasure to present a community member's story of a group of people coming together and utilizing essential resources available to help bring awareness to an important cause.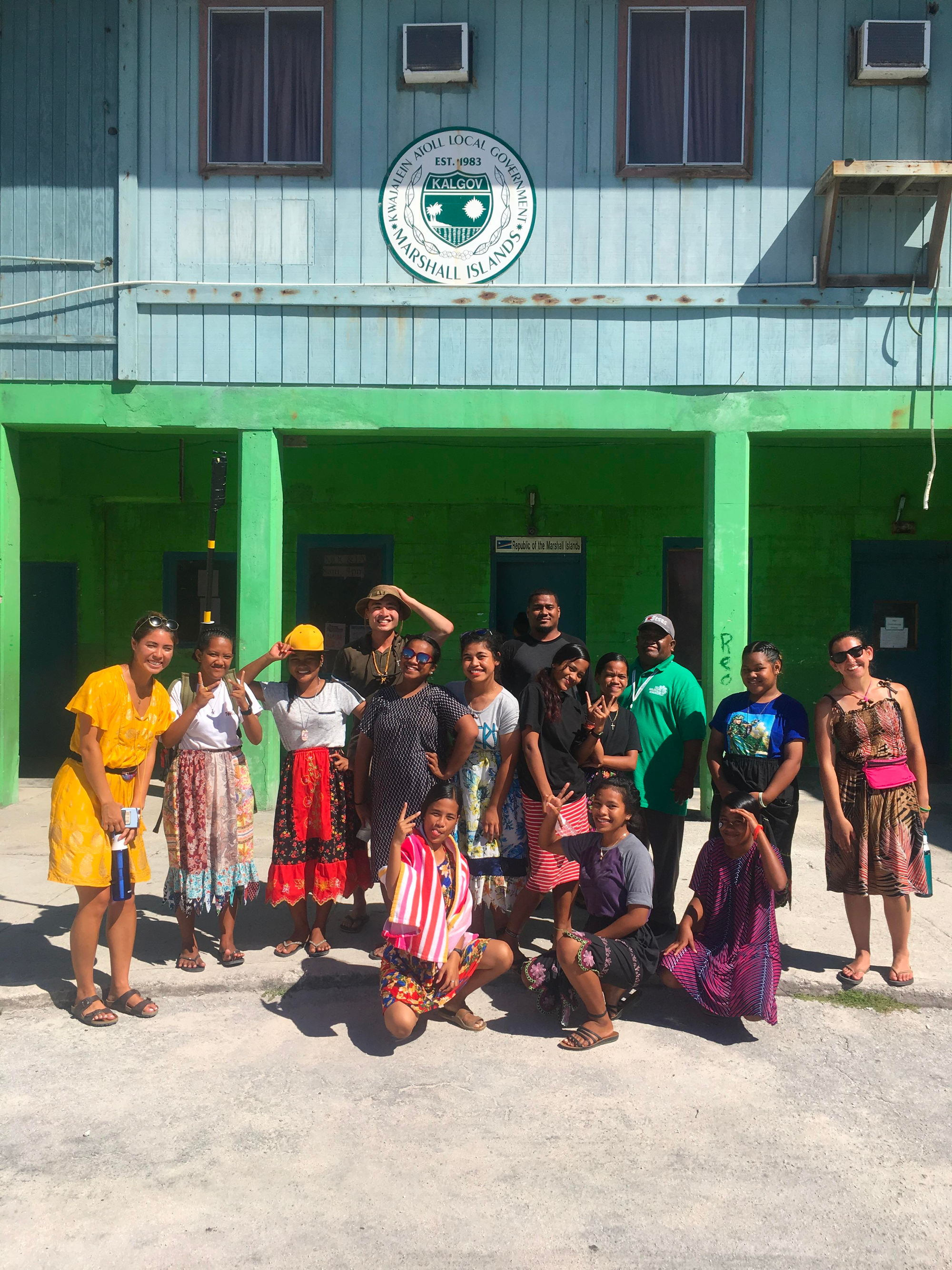 The first submission we're honored to share is from Yixin Ye, a former University of Hawaii and U.S. INDOPACOM intern, who wrote a story about their experience shooting Google Street View with the local high school students of Ebeye to build awareness of the current state of their island home.
The Google Street View project is one of the many ways we are trying to document and tell their stories, as we continue to work with them to learn about how they are coping with the changes and help mitigate the negative effects," Ye said. "A solution to their predicament would take time, but I think this is a step in the right direction."
And here's why their work is so important.
About Ebeye
Many of you are probably familiar with Bikini Atoll - the location of nuclear weapon testing by the U.S. after World War II that resulted in mass relocation to neighboring islands within the Marshall Islands. But did you know that recent climate change and rising sea levels could soon make surrounding land completely uninhabitable?
One island in particular, Ebeye, is subject to an increasingly dangerous threat to local culture and lifestyle among inhabitants.
Here's why:
Ebeye is the most populous island of Kwajalein Atoll in the Marshall Islands and the sixth most densely populated island in the world.
At 80 acres and a population of more than 15,000, the continuous relocation of the Marshallese to Ebeye has resulted in a housing shortage and resource issues.
UH Mānoa Geologist Chip Fletcher, a climate change expert, states that this is one of the most vulnerable populations in the country, if not the world, and was even named one of the most contaminated places in the world back in 2016.
As a response to these circumstances and struggling to keep the Marshallese culture alive, students, residents, and volunteers have made it their mission to build awareness of this escalating problem.
The Geolocation Project
Ye's story is not an isolated one. Pacific ALLIES has regularly brought in students from the United States to host national sponsors.
Being dubbed a "living sustainability laboratory" by researchers and Marshallese leadership, the intern's and students' Google Street View efforts were the first of their kind in Ebeye.
This geolocation and census effort -supported by the Office of Naval Research, Code 34 Warfighter Performance Department Human and Bioengineered Systems Division- formed a cohort supporting Street View Coastal Research and Demographic Survey.
The main goal was to get a better idea of the needs of these islanders through basic questions in the event of an emergency, as well as allow people across the globe to see what Ebeye looks like, states U.S. Coast Guard Cadet Elaine Weaver, giving the Ebeye people the sense that they are part of a global community.
With the help of a GoPro Fusion, TourBuilder, a computer, and a survey on basic needs, these students' Google Street View project and geolocation efforts are at work to bring awareness to Ebeye and the Marshallese people in the hopes of a better future.
Google Street View in Ebeye can be seen here.
About The Tourbuilder Blog
The latest news on Google Street View, virtual tours and photography, along with tip and insights from expert photograpers in the virtual tour industry.
August 2023 Tour Winner
Become a TourBuilder Plus Member
How 360-Degree Photography Will Improve Your Real Estate Listings
5 Best Photography Editing Tools Ranked
6 Photography Tips for Beginners that Will Make You an Expert
7 Best Cameras for Capturing Content
TourBuilder Brings Google Street View to Black Lives Matter Plaza
The Future of Virtual Tours: The Unrequited Potential of 360 Technology
Preservation Through Google Street View: Marshall Islanders Put Their Home On The Map
The Photographer's Guide to Google My Business Image Size Requirements
Our November Tour Tuesday winner is Salvo Di Stefano, with the Chiesa Madre Di Carlentini
The September Featured Google Tour Winner is Warsaw, Poland's Holiday Inn, by Jakub Bauke
Mindspace Victoriei | Tour Tuesday Feature
Talkeetna Mountain Range in Alaska's Denali State Park | Tour Tuesday Feature
Yosemite National Park in California's Sierra Nevada Mountains | Tour Tuesday Feature
One Man's Mission to Bring Digital Marketing to the Middle East
Teatro de la Zarzuela in Madrid, Spain | Tour Tuesday Feature
The May Featured Google Tour is the Praia Turimar Boardwalk in Santa Catarina, Brazil, by Thiago Boesing
June 2019 Winner
Toby Creek Adventures by Chris Conway | Tour Tuesday Feature
April 2019 Featured Tour Winner: Emilio Murias Aumente
May 2019 Winner
May 2019 Streetview Winner
April 2019 Streetview Winner
April 2019 Winner
Congratulations Kuba Bauke, Manor House SPA is the Featured Tour
March 2019 Winner
Congratulations, Viglio Ferrari, 1495 Garden Restaurant, is the Featured Tour!
February 2019 Winner
Introducing New Constellation Features and Hot Keys
Congratulations Gencho Petkov, Изложбени зали "Рафаел Михайлов" is the Featured Tour!
Congratulations, Juan Benito Almeida Guerra, Hebe Centro de Envejecimiento Activo is the Featured Tour
January 2019 Winner
First Google Street View Tour to Near Space from Adler Planetarium with 360° GoPro Fusion Camera
November 2018 Winner
Congratulations Marina Sgamato , Dejavu is the Featured Tour!
October 2018 Winner
Custom Builder is Here!
Congratulations Tomasz Arkuszyński, Wyspa Brzozowa is the Featured Tour!
Congratulations Tim Baldwin, Casa 1810 is the Featured Tour!
September 2018 Winner
August 2018 Winner
Congratulations Abe Maaijen, De Mini Specialist is the Featured Tour!
TourBuilder Photographer Shooting for Street View in Africa
1,000,000 Scenes Published!
July 2018 Winner
Google Street View Summit 2018 was a Success
Two-time TourBuilder Tour Tuesday Winner Featured on TV and Radio!
Congratulations to our newest July Tour Tuesday winner, Leandri Erasmus!
Tour Tuesday Winner: Emilio Murias Aumente
June 2018 Winner
Use 360 Degree Photography For Your Business This Summer, Part Two
Use 360 Degree Photography For Your Business This Summer, Part One
Tour Tuesday Winner: Apex Entertainment
May 2018 Winner
360 Degree Photography For Tourist Destinations and Zoos
360 Degree Photography For Parks And Nature Reserves
Tour Tuesday Winner: Design Plus Bex Hotel in Spain
April 2018 Winner
360 Degree Photography and Your Business, Part Two
360 Degree Photography and Your Business, Part One
Tour Tuesday Winner: Tourist complex "Vokzal" Kostroma Cheese in Kostroma, Russia
March 2018 Winner
8 Romantic Spots Around the World on Google Street View to Celebrate Valentine's Day
Tour Tuesday Winner: Palais Zahia Hotel & Spa in Morocco
February 2018 Winner
3 Ways 360 Degree Photography Can Help Your Business
Tour Tuesday Winner: Garimpo 1926 in Brazil
January 2018 Winner
December 2017 Winner
Introducing Auto-Alignment in TourBuilder
November 2017 Winner
October 2017 Winner
September 2017 Winner
Tour Tuesday Winner: Bergisel Ski Jump in Austria